Home » Blogging Tools
Blogging Tools
Post iPad, Build 3.0

The fastest computer I have ever owned, which is no blarney. A brand spanking refurbished iMac is now sitting on my desk and I'm set up for at least the next five years — quad-core 2.5GHz, 12GB RAM, fast graphics card with 512MB and plenty of other awesome.
Earlier this year, fate brought me a refurbished iPad 3 + ZAGGFolio case with keyboard and that has worked out very, very well.
In addition to better more reliable wi-fi reception, the iPad 3′s Retina display is really nice and pretty much everything but the iPad 4 looks janky by comparison. Further, webpages snap into place and gaming performance is greatly improved — a big refurbished value at $359.
Blogging Tools: Desktop
2.5GHz iMac w/ 21-inch — 12GB, 500GB, 12X SuperDrive, Radeon HD 6570M w/ 512MB
— Apple Memory Module 8GB 1333MHz DDR3 (PC3-10600) - 2x4GB, $62.99 (Prime)
— HDE Mini DisplayPort to VGA Female Adaptor for MacTM, $9.25 (Prime)
— Dell 1702FP 17 inch LCD Computer Monitor Screen AC DVI, $12 used on Amazon
Apple Keyboard w/ Numeric Keypad (wired)
— This is the best keyboard I've owned since the '90s.
Apple Magic Trackpad
— Magic Trackpad completes OS X Lion (Amazon, $68)
— Don't throw away batteries — Duracell Value Charger With 4AA Pre Charged Rechargeable Nimh Batteries, CEF14DX4
(1) Neptune 500GB external enclosure
Airport Extreme Base Station ($99 refurbished)
— What a huge difference this dual-band router/hub has made, extending wi-fi to the entire house and spreading it well out into the yard. Chances are whatever you're using now isn't as good, but shop around for the best deal.
— My previous router/hub was a D-Link DI-524, which was often flaky and offered rather limited range.
Cables To Go 7-Port USB 2.0 Aluminum Hub


— Finally enough (powered) ports and stylish, too!
Blogging Tools: Mobile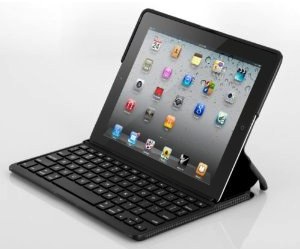 16GB iPad 3 w/ Wi-Fi, $359 (12/12)
— This mobile wonder replaced my 2010 iPad which replaced an Early 2008 MacBook.
— My Christmas iPad: One buyer's guide to value
ZAGGfolio for iPad 2/3 Carbon with Silver Keyboard (12/12)
— An indispensable tool for mobile blogging with the iPad
JVC Marshmallow In-Ear Headphones, Black
— The best "cheap" ($10) in-ear phones I've used to date.