Lion Cache Cleaner 6 ships
21 July 2011
1,930 views
One Comment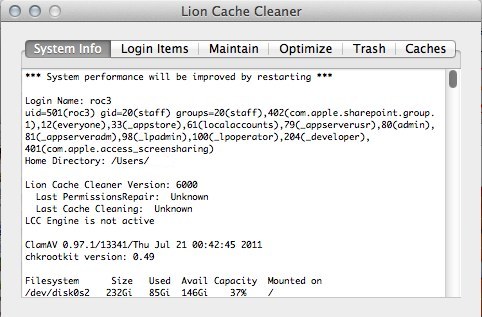 It used to be that I would do a clean OS X reinstall about once a year. Two things have changed in recent years to end that practice: Snow Leopard, I believe, is fundamentally more reliable then predecessors and I started using Snow Leopard Cache Cleaner.
Some early hiccups aside, despite installing Lion over Snow Leopard it's been pretty darned smooth for months. Nevertheless, sometime down the road I will get around to doing a clean OS X Lion install.
However, in the meantime, I'm glad that Lion Cache Cleaner 6 (shareware) is now available and will surely get run tonight — keeping OS X munge free is definitely a good thing.
Thereupon, this release updates all of the maintenance routines and customization features to work in Lion while still maintaining backwards compatibility down to OS X 10.4. This release also includes other minor bug fixes and improvements.
This is a paid update ($6.99) for registered users. A full license sells for $14.99, but you can Lion Cache Cleaner and Northern Softworks' Fileward for $14.99.
Get your copy of Lion Cache Cleaner 6 here.