Home » iOS, Music, movies, TV
Who Me? Adam Young Pulls iOS 7 Ringtones from Discography
22 October 2013
116 views
No Comment
Then you saw it and now (image below) you don't. On Monday, Apple-centric blogs near and far noted the appearance of "Sounds for iOS 7″ (a.k.a. iOS 7 ringtones) on Adam Young's discography page, confirming suspicions that the electronic musician was behind Apple's new mobile sound.
Well, the "iOS 7 Sounds" reference on the Fireflies guy's discography page has been removed — it came and went in the night.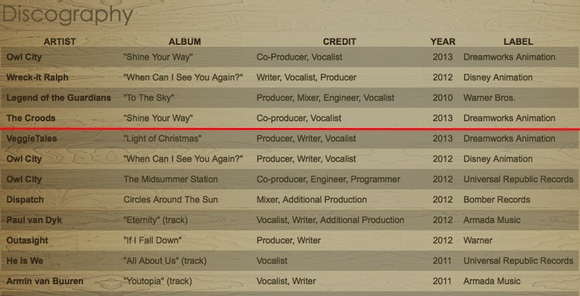 Apparently, Adam forget the first rule of (working for Apple) Fight Club — You DO NOT talk about Fight Club.
Also expurgated from Adam's discography is a reference to Shine Your Way by Owl City, which had been doubled listed.
That said, lots and lots of people had already guessed that Young was either behind or, at the very least, inspired the new iOS 7 ringtones. Seriously, on your iPhone, iPad or iPod touch running iOS 7 go to Settings > Sounds and listen to "Night Owl" — totally reminiscent of Fireflies.
Alternately, if you don't have an iThing running iOS 7, then check out this YouTube quickie…
Related Posts:
— Apple's 64-bit A7 Chip Shreds Fractals
— Eric Schmidt: Android More Secure than iPhone
— How To: Fix the iOS 7 Messages Issue
— New in iOS 7: MultiPath TCP
— iOS 7 Security Content: A Long, Reassuring [Scary?] List of Patches