How To: Force Empty Trash in OS X Mavericks
6 October 2013
21,447 views
6 Comments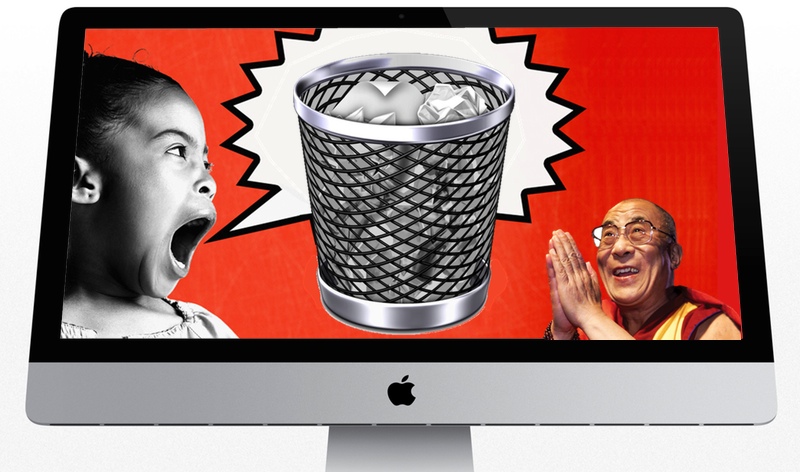 Delete stubborn files and leave your OS Mavericks Mac smelling lemony fresh! Some files simply will not delete. Sometimes it's just one and other times your Mac gets stuck "Emptying Trash" for hours. Here are fast and simple ways expunge lingering files, including how to force empty Trash.
If you get an error message saying, "The operation can't be completed because the item "diediedie.doc" is in use," then quit the last app that accessed that file.
Can't remember which app? You can quit all running apps by pressing Command + Option + Control + Eject — yes, you will have the opportunity to save changes in open files.
If you get an error that says, "The file is locked," then hold down the Option key and empty the trash again — holding down the Option key overrides locked files.
For what it's worth, that way did not work for me, but it's certainly worth a try.
The method that DID successfully force empty Trash involved a little Command Line magic.
Go to Application > Utilities and open the Terminal app. At the prompt, copy/paste or type the following command and hit Return:
rm -rf ~/.Trash/*
And, then quit Terminal — your Mac's Trash can will be empty and, if you squint your eyes just right while cocking your head to one side, it will also have a nice lemony fresh scent.
In truth the above Force Empty Trash methods will work on any Mac running OS X, not just Mavericks.
Source: LifeHacker
Related Posts:
— How To: Fix the iOS 7 Messages Issue
— 8-Core 2013 Mac Pro Benchmarks Published
— New in iOS 7: MultiPath TCP
— Bioshock Infinite Mac Reviews: Game of the Year?
— Backup iPhone to iCloud and Mac? Yes, But…