Review: Yahoo Weather for iPad Is Pretty Good
17 December 2013
1,782 views
No Comment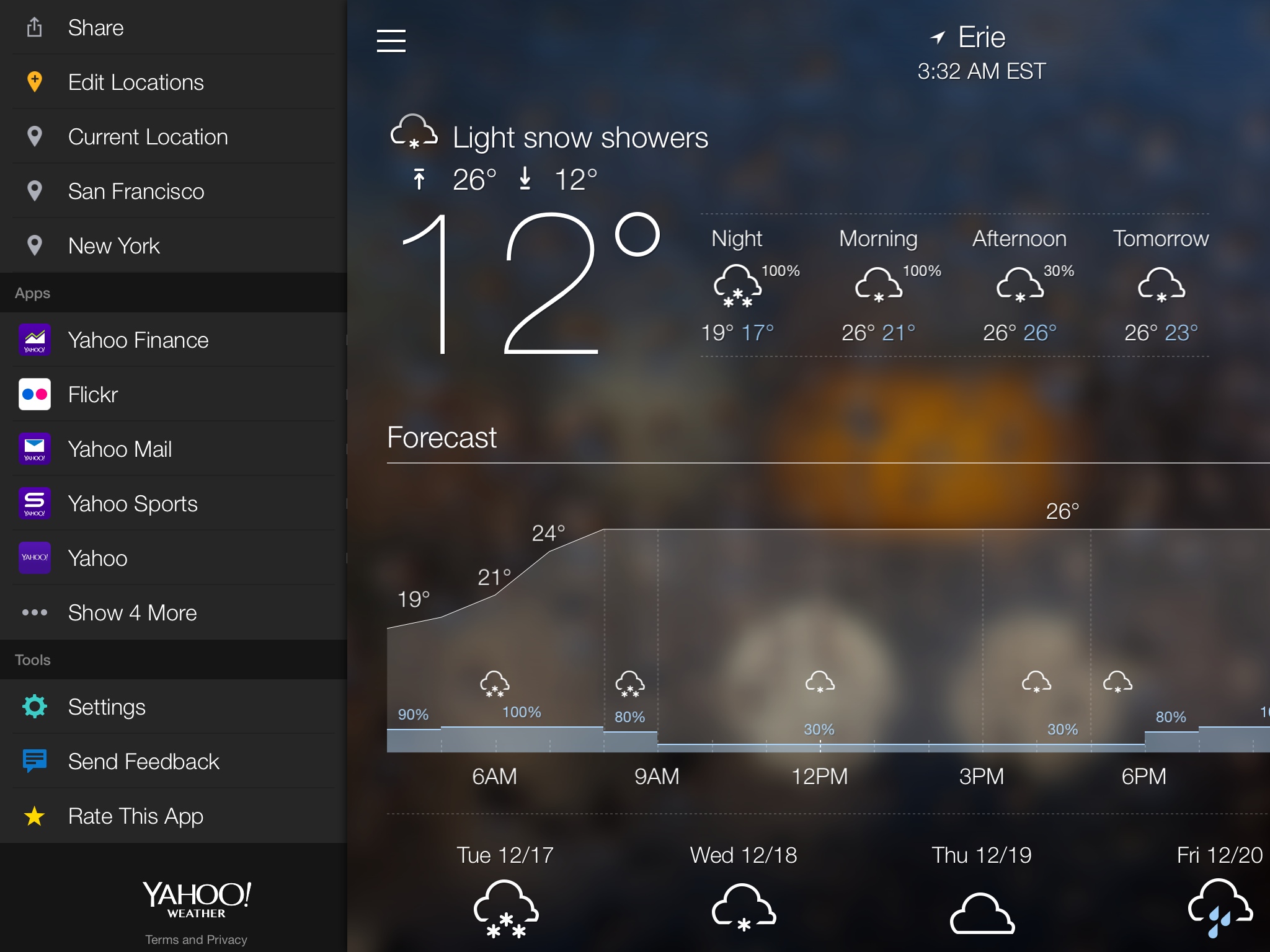 There are more than a couple competent weather apps for the iPhone and iPad. However, one of the worst is now among the best — Yahoo Weather for iPad (free) offers a both simplified, at-a-glance view and in-depth info that brings understanding.
In fact, while Apple's iPhone-only Weather app has been widely praised for its beauty, Yahoo Weather for iPad cribs heavily from that template. Yahoo marries that clean and intuitive interface with user generated photo backgrounds culled from Flickr — a nice touch, especially if you live in metro peppered with iconic landmarks.
As alluded to in the lede, Yahoo Weather for iPad also delivers detailed forecast info, including hourly and daily predictions, details, wind speed, precipitation and maps. The presentation is beautiful with minimal + tasteful animation.
There is a choice of four unique presentations of radar, as well.
As you can see in the screen cap above, Yahoo Weather for iPad also offers quick links to other popular Yahoo iPad apps, like Flickr, Mails, Sports, etc via slide out sidebar. If you're invested in the Yahoo online universe, Weather is a must have.
Yahoo Weather for iPad (free) is a solid effort all 'round and a worthy competitor for long-time user favorites like The Weather Channel Interactive and Weather+…
What's your take?
Related Posts:
— iPad Keyboard Shortcuts: Apple Adds More in iOS 7
— QuickTime 7 for Mavericks? Yep, It's Compatible
— Mavericks Tips: Hide Menu Bar on a Second Monitor
— Get iWork for Free? Where to Download iWork '09 Demo
— OS X's Incompatible Software Folder: What Is It?