Cord Cutter: Free Amazon Prime: Get the 30-Day Trial
13 September 2013
749 views
No Comment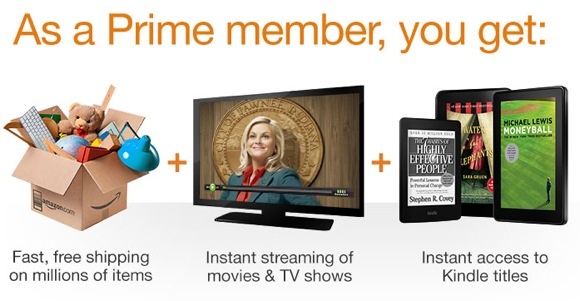 Are you cord cutter curious and want to get a taste before telling Time Warner or Comcast to go take a flying leap? A great place to start is a free Amazon Prime 30-day trial, which is loaded with tons of a great all-you-can-eat content.
Yes, you also get free second-day shipping on Prime items (i.e ship a refrigerator to house for free) and access to free Kindle books, as well as hundreds of movies and TV shows.
Amazon Prime Video is available for Mac, iOS and Roku — I'm a member and big fan. So, get a free Amazon Prime 30-day trial, enjoy the content, ship something huge and even read a book or three.
And, when you sign up using this link, you also help support the Fairer Platform — thanks and enjoy!
Related Posts:
— Refurbished Airport Express, $69 with Free Shipping
— Select iPads for $50 Off at Sam's Club
— MacLegion Fall Mac Bundle, Early Birds Get MacCleanse Free
— Name Your Own Price Mac App Bundle 3.0: Camtasia for $11.94
— Refurbished iPad mini, $279; iPad 3, $359; iPad 4, $419*