OS X Mavericks Adoption: One Week On
29 October 2013
1,717 views
One Comment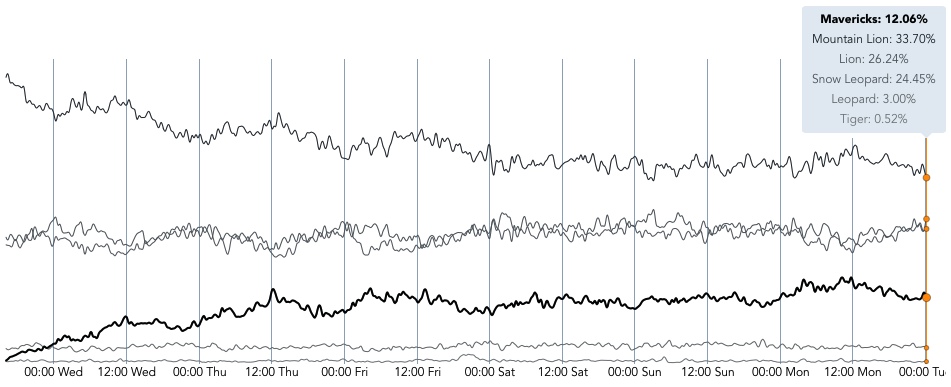 Within 24 hours of its release, OS X Mavericks adoption hit 5.5 percent (thickest line), or about 4 million of the installed base of 72 million Macs. That's significantly better than last year's OS X Mountain Lion adoption, which took nearly four days to crest 5 percent.
Over the last six days or so, OS X Mavericks share of the installed base has gone as high as 17-plus percent and currently stands above 12 percent.
Why the variation? GoSquared is the source of the above adoption data chart and they're measuring pageviews by OS X version — Mavericks hit a high over the weekend. Naturally, people's employers tend to be a bit more shy about installing new versions of OS X given the potential for application and device conflicts, hence the weekday retreat.
However, given that Mavericks is free, look for employers to take the plunge as app and device incompatibilities get ironed out.
Mavericks Adoption + One Week
— OS X 10.9: 12.06 percent
— OS X 10.8: 33.7 percent
— OS X 10.7: 26.24 percent
— OS X 10.6: 24.45 percent
— OS X 10.5: 3.00 percent
— OS X 10.4: 0.52 percent
For what it's worth, Windows 8 adoption, about a year since its release, stands at around 8 percent. Yes, there are one heckuva lot more PC boxes out there than Macs, but there's no question which platform's users has a bigger appetite for change.
Of course, Mac users are fearless by comparison, having gotten used to OS X updates that deliver, for the most part, "it just works" new features and functionality.
Mavericks Adoption, Good. iOS7, Unmatched
However, when it comes unadulterated operating system adoption velocity, nothing tops Apple's 750 million installed based of iPhones, iPod touches and iPads. iOS 7 adoption soared past 30 percent within 24 hours and blew by 50 percent by the end of the first weekend. Today, nearly 80 percent of users have installed iOS 7.
That said, whether they're installing OS X Mavericks or iOS 7, now tops let alone comes close to Apple customers' appetite for the latest technology…
What's your take?
Related Posts:
— Mavericks Wallpapers: Apple Has an Easter Egg for You
— OS X Mavericks Screensavers: More than 10 Plus Over 200 More
— How To: Make a USB OS X Mavericks Installer
— A Quick History of OS X Prices
— What's New in iOS 7.0.3, iCloud Keychain Set Up Tips