Review: Get Brushed Metal with Mac Theme App Flavours
7 January 2014
4,090 views
No Comment
Once upon a time, back in the early noughties, operating system and app skinning were all the rage on both Windows and Mac. Remember Apple's Brushed Metal user interface? Brush Metal is one of the dozens of Mac themes available via Flavours from Interacto Labs.
Flavours is an easy-to-use Mac skinning app that brings together theme application automation and a large library Mac themes. Such as? Whereas Apple killed OS X Brushed Metal with the release of OS X 10.5, you can bring it back to your Mac with Flavours.
Hate the translucent menubar in OS X Mavericks et al? Using Flavours to apply Brushed Metal kills it (image above) dead. And, it's just this simple…
Fire up Flavours (12-day free trial) and browse the available (Get More) themes of which there are dozens.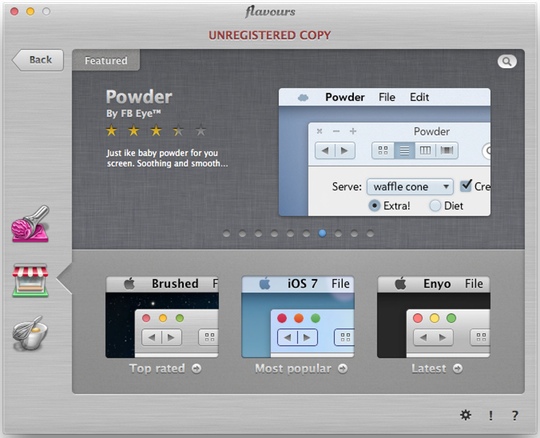 Pick one of the dozens of available themes and (Brushed Metal?) click the Apply button.

Select the interface elements you want to skin and click Apply again, then wait a minute or three.

Lastly, logout to implement the Mac theme and, after your Mac comes back, voila!, you will have Brush Metal (or whatever).

Flavours is pretty darned cool and you get 12 days play around with dozens of Mac themes. If ya like it, Flavours costs a not unreasonable $19.90.
If not, be sure to use the integrated Uninstaller, which is available under the Flavours menu.
Check out Interacto Labs' Flavours for yourself and then come back to share your impressions in the comments section below…
Related Posts:
— 2013 iMac vs Mac Pro: 4-Core Shoot Out
— Review: Do You Miss Front Row? Try nessMediaCenter
— 10 Apple TV Tips and Their Friends
— Mavericks Tips: Let It Snow In Your Terminal
— How To: Replace OS X Trash Can with a Trash Can Mac Pro