Mac Sales Are Up, Mac Sales Down
10 January 2014
1,920 views
No Comment
Both Gartner and IDC have published their PC unit volume sales estimates for the fourth quarter of 2013 — one has Mac sales and market share up, while the other paints a rather less sanguine picture.
According to market researcher Gartner, Mac sales shot up 28.5 percent in Q4 2013, pushing up Apple's share of the US PC market from 9.9 percent to 13.7 percent — good enough to hold onto the number three spot behind HP and Dell. These numbers look all the better when compared with overall PC sales, which fell 7.5 percent in the US, says Gartner.

And, for what it's worth, that Q4 Mac sales were up nicely compared to the same period in 2012 makes sense. That is, Apple botched the launch of the updated 2012 iMac, which helped to depress Mac sales by 19 percent.
So, with Apple offering a full slate of readily available Mac mini, MacBook Air, MacBook Pro and iMac models for Christmas 2013, it would be surprising if Mac sales didn't go.
Mac Sales Are Down?
For its part, International Data Corporation (IDC) claims, also an estimate, that Mac sales were down in Q4 2012. Specifically, the market researcher said Apple shipped 438,000 fewer computers than it did in the same quarter a year ago.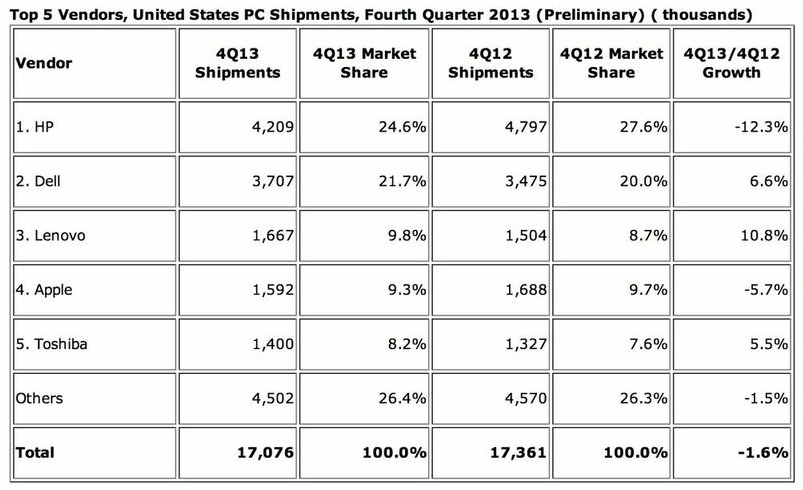 That allowed Lenovo to rise into the number three US market share spot. IDC says that overall PC sales slipped 1.6 percent in Q4 2013, declining by 285,000 units.
Obviously, either Gartner or IDC got their Mac sales estimate wrong. Given Apple's poor Mac sales performance in 2012, as noted above, and a strong product lineup now I'm guessing Tim Cook's crew put up good numbers last quarter…
What's your take?
Via MacRumors, 9 to 5 Mac
Related Posts:
— Review: Get Brushed Metal with Mac Theme App Flavours
— Refurbished Macs: $849 MBA; $999 MBP; $1,049 iMac; $2,139 Mac Pro
— 2013 iMac vs Mac Pro: 4-Core Shoot Out
— Apple Explains 'Using the Late 2013 Mac Pro on Its Side'
— Mavericks Tips: Let It Snow In Your Terminal