IPTV: Netflix, Hulu, Amazon Penetration Rising Rapidly
20 September 2013
5,982 views
No Comment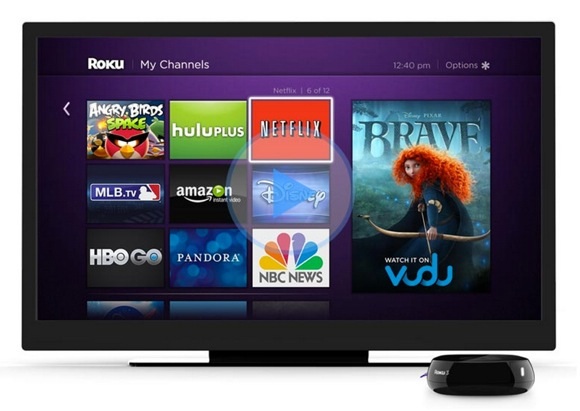 As cable and satellite TV providers bleed subscribers, IPTV services continue to rapidly add customers. Specifically, 38 percent of American homes now subscribe to Netflix while Hulu and Amazon Instant continue to make big gains, too.
New data from Nielsen Ratings, long the benchmark for American TV viewing habits, indicates a significant and growing fraction of US homes now subscribe to an IPTV service: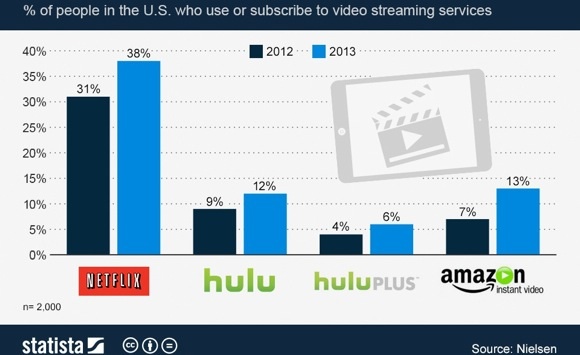 See also: Free Amazon Prime: Get the 30-Day Trial
Even more interesting are the diverse, nay, fragmented ways IPTV subscribers are watching Netflix and Hulu. Further, while the press can't seem to write enough about the decline of desktop computing, a plurality of IPTV viewers prefer their Macs and PCs.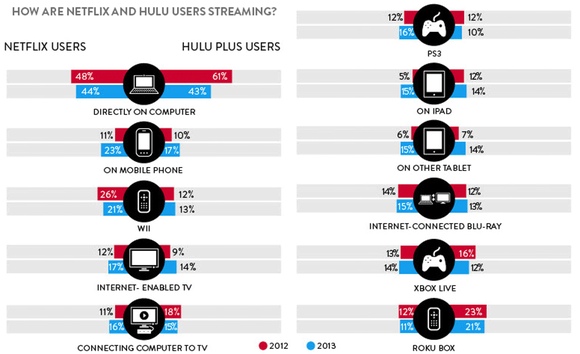 See also: Roku + Netflix = Instant Movies on your TV starts at $49.99 (Roku coupons)
What is wrong with Nielsen's data on device viewing habits? Simply put, Nielsen doesn't include Apple TV, which accounts for well over 50 percent of the set top box market.
Nevertheless, there's no denying the rise of Netflix, Hulu and Amazon Instant, and you've got to wonder which, if any, of the current IPTV viewing platforms will come out top…
What's your take?
Via Statista
Related Posts:
— Cable Loses Another 1.8 Million Subs
— Cord Cutters: IPTV Subs Rise as Cable, Satellite Fall
— Mac Dashboard: WidgetTV 3 Rewritten, Adds TWiT and More Channels
— Review: Roku LT + Plex Media Server
— Cord Cutter: Free Amazon Prime: Get the 30-Day Trial