New Roku LT-1-2-3 Family Released, M-Go Movie Store Added
25 September 2013
534 views
No Comment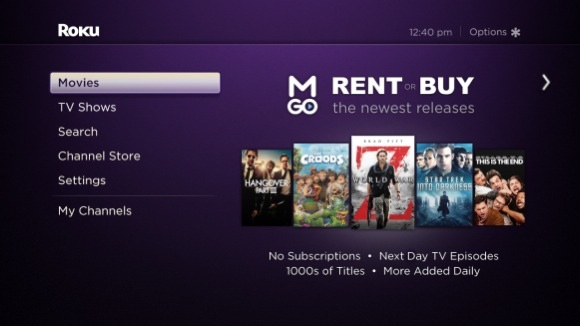 A recent FCC filing revealed Roku's plans to release a new low-cost set top box, though few details were known at the time. The company has now ended all speculation by releasing new Roku models and, perhaps with an eye on Apple's iTunes, is now offering movie and TV show sales and rentals via M-Go.
Roku has announced a hardware + service one-two punch that keeps the company at the forefront of the rapidly evolving and expanding set top box market.
New Roku Family


• Roku LT ($49.99) — The easiest and most affordable way to stream to virtually any TV with support for up to 720p HD video quality
• Roku 1 ($59.99) — Basic streaming of the Roku LT with support for up to 1080p HD video output
• Roku 2 ($79.99) — 1080p HD output plus a remote with built-in headphone jack for private listening and dual-band wireless for better Internet connectivity
• Roku 3 ($99.99) — Fastest-and- most-powerful Roku player to date, with all the features of the Roku 2 plus Ethernet and USB ports, and an enhanced remote with built-in headphone jack and motion-control for gaming
"We're also introducing the M-Go movie and TV store, integrated directly on our home screen menu in the US for easy and instant access to their great selection of movies and TV shows including Hangover 3, The Croods, Breaking Bad, Modern Family, Big Bang Theory, Glee and even fall-premiering shows like Brooklyn 9-9 starring Andy Samberg," writes Jim Funk, Roku VP of Business Development.
Whereas the Roku 3, which was released in March, is available for immediate delivery, the new Roku LT, Roku 1 and Roku 2 can be pre-ordered now with shipment expected on October 8.
New Rokus: How New?
Fundamentally, the template for the new Roku 1 and Roku 2 is the already shipping Roku 3. As clearly laid out above, the models meter features by price.
For its part, the Roku LT is identical to the previous model with the exception of some new plastics.
That said, although some folks will immediately leap to the conclusion that the Roku + M-Go partnership is targeted at the Apple TV + iTunes customer, the true competition are similar B-list stores already available on the Roku, like Verizon Redbox and Vudu…
What's your take?
Related Posts:
— IPTV: Netflix, Hulu, Amazon Penetration Rising Rapidly
— Low-Cost Roku 2700x Revealed in FCC Filing
— Netflix + BitTorrent: A Match Made in Holland
— Cord Cutter: Free Amazon Prime: Get the 30-Day Trial
— Cable Loses Another 1.8 Million Subs